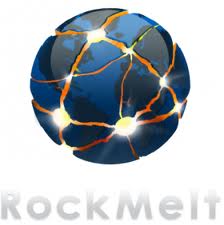 There's a new exclusive browser in town, with a social twist – RockMelt!  RockMelt is one of the first browsers to fully integrate the social experience into the browser itself. Claiming to evolve browsers the same way the web has evolved, there's a lot of promise in these new features.
Web browsers have changed considerably over the past 12-15 years. From Internet Explorer to the upstart Mozilla stealing their thunder and most recently Google rearing its head with an ultra-fast browser, Chrome, the field of play is starting to get crowded. But, for a new browser to step onto the scene and attach its success to Facebook is a success story  waiting to happen.
Here is some of the features l like about the new social browser:
Integrates all of your social networks into one location
Sidebar displaying all of your Facebook friends online without having to load Facebook
Live pop-up updates from Facebook, Twitter and other social networks
Real-Time RSS
Dual Search Boxes
Check out the new browser here: http://www.rockmelt.com/
Are you considering switching to RockMelt? Have you used any of the other social browsers? Let me know your experience in the comments box below.