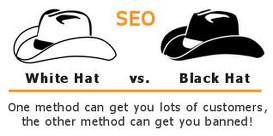 Anyone with their own website has been involved with getting their website more traffic. To obtain more traffic, a website must have SEO or Search Engine Optimization. Search Engine Optimization is received by different search engines and their ranking systems. To get Search Engine Optimization, a number of things need to happen. Ranking from high to low, search engines determine how many visitors your site will have by giving your website a ranking that presents your website earlier in search results. If you want to optimize your website, your content and HTML must change often. One way to do this is to change your content by writing good key word filled articles for your website and adding new articles frequently. Search engines scan your website for changes and keyword filled content. In the internet marketing world there has been words like White Hat SEO and Black Hat SEO to describe two different ways of Search Engine Optimization. Black Hat SEO is usually done through a term called spamdexing and redirecting search results to particular pages in a way that goes against a search engines' terms of service. Black Hat SEOers know that their efforts are only temporary and will probably be banned sooner or later once the various search engines discover what they have done. However, they continue to use those tactics, temporary or not. White Hat SEO efforts last longer and prove worth their efforts as your high ranking is consistently high over time.
Most website owners, if knowledgeable or paying attention to how their website is being managed, do not want that type of mark against them, but some overnight websites that just want to quickly establish their presence for a service or product will utilize the Black Hat methods even though they know that they may be banned shortly after they get noticed.
The positive attributes of White Hat SEO, for the most part, are clear. If you take a look at the alternative Black Hat methods used to increase your website ranking through search engines. Being approved by search engines and getting a higher ranking and keeping that higher ranking is what website owners strive for. By utilizing good content sources, and managing the HTML content, your website will be graded as search engine friendly. Your visitors will keep coming back because they feel the easy maneuverability of it, as well as its higher ranking merits another visit. Whether you hire a website developer to manage your SEO marketing campaign or have staff in house, it has to be done. Fresh new content, rich with key words about your business, will keep traffic coming on a regular basis to your website. The internet marketing strategies all are keyed towards traffic and search engine optimization. White hat SEO is ethically and realistically the way to run your internet business if you want to stay an online business over time.
If you have any input on white hat SEO, please feel free to leave a comment or contact me.
Also, check out SEO and Google: Don't Get Banned