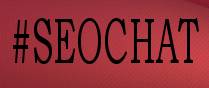 Last night's weekly #SEOCHAT was an interesting one, they usually are, and the format was a little different with the participants asking questions, as opposed to the questions already pre-set.
Here were the following questions asked:
Thoughts on the Google Farmer/Panda update. Did it affect you? Was it effective?
How are link building and buying different? Thoughts on JCPenney, Overstock, etc.
EMDs – Did Panda/Farmer affect them? What's the future for EMDs?
What topics would you like to discuss in future seochats?
If you're interested in the responses, please check out Lyena Solomon's post on www.searchmarketingweekly.com
Also, if you are interested in joining in on the conversation, check  www.searchmarketingweekly.com for the weekly schedule; it's very interesting with a lot of SEO professionals  sharing information!
Do you follow any online conversations? Care to share?