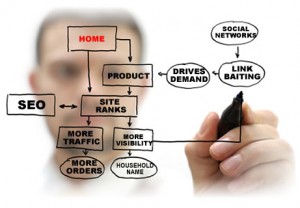 It used to be that if you mentioned the term search engine optimization, you'd just get a bunch of blank stares. Nobody knew what it meant or how to use it. However, SEO has grown increasingly prominent since when it first came on the scene, and now pretty much anyone who has posted content on the web has an idea of what SEO is. Ironically, despite it becoming the latest craze in Internet marketing, many people still underestimate the power of SEO.
Take blogging, for instance. Many individuals and companies have taken to using blogging to help promote their sites, products and services. Blogging is a natural fit with search engine optimization, and a lot of blogging elements are naturally SEO friendly. However, most people make a mistake and don't go the extra mile to really make their blogs search engine friendly. They figure it's just not necessary and that the gains don't just justify the extra work. This is a huge mistake.
It's important to optimize each and every blog post that you make to be search engine friendly. If you are really dedicated to making your blog successful, then every post you make will be loaded with quality content. If you're going that far, why not take it one step further and make sure that the world can find it? Even if you make a post that you don't think is especially important, keep in mind that traffic is traffic. It doesn't matter how people are getting to your site, so long as they are getting there.
Spend some time getting to know the Google keyword tool. Using this tool, you can input your blog posts URL and quickly have a list informing you of potentially untapped keywords that are related to your blog's content. This tool can help you find keywords that you didn't even realize were popular that could greatly improve incoming traffic to your blog. The tool works right alongside the standard Google AdWords tools to help improve your site's visibility.
Now the problem that some people run into is that they just don't have enough time to fully optimize every blog post for search engines. Or, they simply lack the know-how and don't understand the nuances of search engine optimization, such as putting keywords in the meta title and description of the site. Fortunately, there's an easy-to-use tool that practically automates this entire process, making optimizing a blog easier than ever.
It's called the All in One SEO Plug-in, and works with any WordPress blog. This comprehensive plug-in does all kinds of things to make optimizing a blog easier. It provides an easy template to edit your Meta title and description, which are very important to SEO. It can also help you find new keywords and provide easy workarounds for duplicate content problems.
All in all, this great plug-in reduces the work it takes to optimize individual blog posts for search engines by a huge margin. With this tool, there's really no reason not to optimize every post you make.